OA2020 PROGRESS REPORT
Latest update: September 29, 2020
The Open Access 2020 Initiative (OA2020) is a global alliance of academic and research organizations committed to accelerating the transition of the current subscription system of scholarly publishing to new open access models, to ensure that research articles are published immediately open access and that the costs associated with their dissemination are transparent, equitable and economically sustainable. Seizing the financial leverage of our investments in scholarly publishing, we adopt strategies to systematically withdraw financial support of paywalled publishing venues and reinvest those funds to support Open Access publishing. The present report provides a summary of the progress made since delegations from 37 countries issued the Final Statement of the 14th Berlin Open Access Conference.
OA2020 has gained consensus and forged alignments among key stakeholders worldwide
To date, the OA2020 expression of interest in the Large scale implementation of Open Access to scholarly Journals has been signed by more than 140 research organizations representing over 4600 institutions from all regions.
Within the OA2020 community, coalitions at the country, consortium and institution level have been formed, bringing ministries of education and innovation, higher education and research administrators, libraries and e-resource licensing consortia and researchers together around the negotiating table to address commercial publishers with one voice.
United in the recognition that a multiplicity of approaches must be implemented in order to reach our shared goal, the African Open Science Platform, AmeLiCA, ScieLO, cOAlition S and OA2020 expressed their alignment in the São Paulo Statement on Open Access.
Recognizing the symmetry between research funding and research performing organizations in supporting the scholarly communication chain, cOAlition S expresses support for OA2020 in the implementation guidance of the Principles of Plan S, and together these initiatives work in synergy as described in the Joint Statement of 9 May 2019.
Participants in OA2020 have built capacity to realize the transition
A large number of our participants have made great strides in data gathering and analysis to understand publishing trends, track subscription and publishing expenditures, and cost-model transition scenarios. To support these efforts, a Open Access 2020 dataset has been released, enabling organizations to freely conduct analyses to better understand the volume and publisher share of the scholarly journal articles by corresponding authors from their country's institutions, an essential step in preparing for a fully open access future.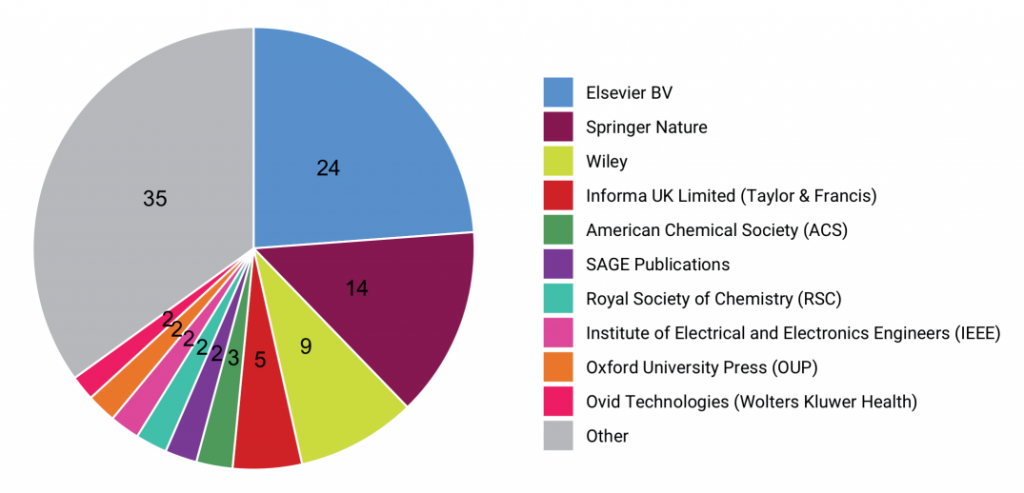 Global Publisher Market Shares 2014 – 2018 Original Articles and Reviews indexed in the Web of Science
The ESAC Market Watch tool, integrated with data from multiple sources, is available online. These tools build transparency around the open access publishing fees currently charged by the major commercial publishers, empowering research communities with a baseline from which to determine what they consider to be a fair price for open access publishing services for their authors.
Our strategies have made momentous progress toward our goals
Following the Final Statement of the 14th Berlin Open Access Conference which validated Transformative Agreements as a viable and effective method to accelerate the transition to open access, uptake of this strategy has grown considerably. The ESAC Registry of Transformative Agreements now counts more than 140 such agreements, negotiated in 20 different countries with 32 publishers large and small, leading to the publication of nearly 90,000 articles immediately open access in 2020.
ESAC Registry: Number of Transformative Agreements by Publisher Data retrieved on September 29, 2020
ESAC Registry: Number of Transformative Agreements by Country and Publisher Data retrieved on September 29, 2020
Members of the OA2020 community have established the LMIC Working Group which is now gathering quantitative and qualitative information on the financial and publishing interaction of Low and Middle Income Countries with commercial publishers. With such data, the community will be in a better position to propose and secure appropriate mechanisms to ensure that scholars everywhere benefit from the transition of subscription journals to open access. Read more about their work here. 
Participants in OA2020 who are negotiating Transformative Agreements have validated the ESAC guidelines to orient institutions, consortia and other entities in the nature and objectives of these agreements.
In their updated implementation guidance, cOAlition S "strongly encourages institutions and consortia to develop new transformative agreements and will only financially support agreements after 1 of January 2021 where they adhere to the ESAC guidelines."
Many among the OA2020 community have developed negotiation principles, roadmaps and toolkits to guide their own actions and help others build similar strategies. These highly useful resources are shared on the ESAC and OA2020 websites.
Please continue to share news of your progress and get in touch with the OA2020 community at contact@oa2020.org.