16th BERLIN OPEN ACCESS CONFERENCE
TOGETHER FOR TRANSFORMATION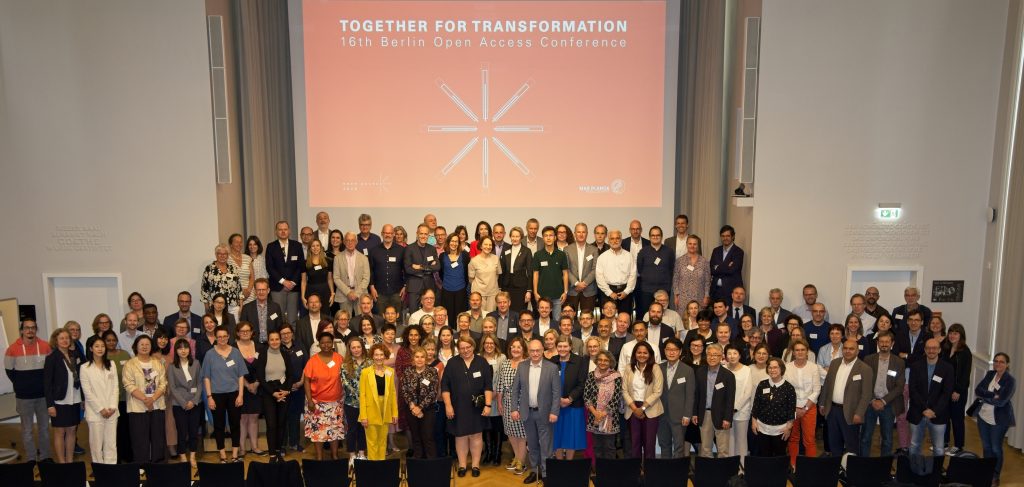 National-level delegations representing research communities from 38 countries across six continents, including scientists and scholars, ministries of education and research, research funders, university and research leadership, their libraries and library consortia, gathered at the 16th Berlin Open Access Conference (B16).
Hosted by the Max Planck Society, initiator of the Berlin conference series, and organized by the Max Planck Digital Library's Open Access 2020 Initiative (OA2020), the conference was held as a strategy meeting of global actors in research communication committed to advancing viable strategies to replace the subscription paywall model underlying the bulk of today's scholarly journals with transparent and sustainable models that deliver immediate and open access to the results of research, enabling maximum scientific and societal impact.
Returning to the setting of the inaugural conference in this series, which gave rise to the foundational Berlin Declaration on Open Access to Knowledge in the Sciences and Humanities (2003) some twenty years ago, the international B16 participants utilized the conference to refine, renew, and coordinate its approaches and strategies, with a particular focus on transformative open access negotiations with scholarly publishers.
Conference outcomes
Representing the strong consensus of all those represented at the meeting, the Key Insights will guide the research community's next steps in shaping the increasingly open paradigm in scholarly communication and the Final Statement for publishers summarizes the community's newly calibrated expectations for transformative open access negotiations.
Organization team
Colleen Campbell, OA2020 Initiative
Melanie Franz, Khatia Mchedlishvili, Michael Schlachter, Anja Stöber and Ana Valente, all of the Max Planck Digital Library
Gerard Meijer, Ulrich Pöschl, Georg Botz, all of the Max Planck Society